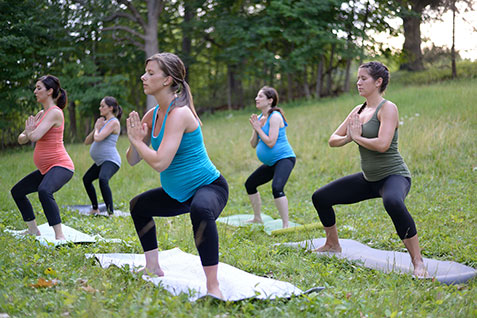 Prenatal Yoga
Prenatal Yoga is designed to help expectant mothers connect with their body, baby and other mothers-to-be. It is a safe flow of sequences that follow the phases of birth. These sequences will teach breath awareness, deep relaxation, and meditation while strengthening muscles that will support baby during pregnancy and birth. We will work together to alleviate pregnancy related discomforts. Prenatal Yoga will offer women the opportunity to develop friendships and share the highs and lows of pregnancy. Important topics regarding pregnancy and labor will be discussed in a non-judgmental and caring atmosphere.
B.A.B.Y. Bring a Baby Yoga
Join our warm community of moms as you nurture your baby while caring for yourself. Baby Yoga offers moms an opportunity to bond with baby through movement and touch. Engage with baby through creative play in an atmosphere of pleasure and relaxation. For moms, your yoga action will strengthen your postpartum body while building trust and security with baby. Baby Yoga is appropriate for babies 6 weeks to crawling.
Movers & Crawlers Yoga Class
Movers and Crawlers Yoga is designed for babies between the ages of 6 and 18 months. Practicing yoga with baby offers moms, dads, grandparents and caregivers the opportunity to bond with their little ones through movement and touch. Move through a delightful flow of sequences involving mini meditations, songs, games, dance and more. Babies are free to move about in a safe environment and discover movement that feels good in their bodies.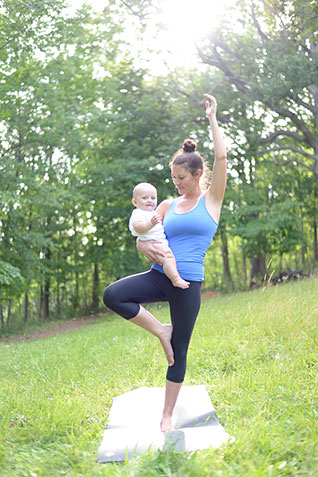 Happy Baby Yoga: Sweet movements supporting bodies and babies
Pregnancy, postnatal, and baby care present women and couples with challenges that will forever change their lives. While change provides individuals and families with opportunities to grow and progress during their life's journey, it can also generate feelings of anxiety, stress, and the fear of the unknown.
Whether it is adjusting to changes of the body or emotions or moving from life as an individual to life as a family, practicing yoga during this time of change can support women in finding connection and inner strength. Women connect with their breath, their bodies, and their growing babies. They unite with other women who are going through similar experiences to discuss the hopes, fears, and joys of motherhood. While practicing yoga during pregnancy allows women to strengthen the muscles that support baby during pregnancy and birth, it can also assist in rebuilding and fortifying their postpartum bodies while bonding with their new babies. A yoga practice calms the nervous system and clears the mind, helping women navigate through the changes and challenges they face.
Happy Baby Yoga offers more than just breath, movement, and meditation. It offers women a place to gather and "be" ; a place to share and learn. Throughout the ages, women have recognized the importance of gathering together. When women gather they share emotions, fears, and challenges, weaving a beautiful tapestry of understanding that comes from sharing the heart. We welcome all to join our community of women. – Jacqueline Wright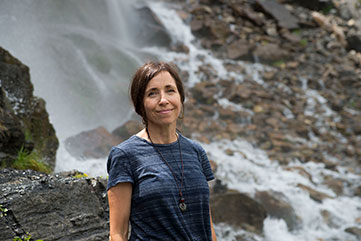 Jacqueline Wright, mother of six and stay-at-home mom, believes in strengthening and empowering women. Strong women build strong families. Strong families build strong communities. A woman's instinctive ability to care for and nurture those close to her can change the world.
Jacqueline is passionate about anything that has to do with pregnancy, birth, babies and yoga.
Jacqueline has had a life long interest in health and wellness. She studied psychology at the University of Utah where her love for distance running was born. Along with her love of running came running injuries. Jacqueline was introduced to yoga in 1993. Yoga was a good cross training option that reduced the risk of injury while pursuing her running goals. She practiced yoga off and on for several years. After relocating to Wisconsin, yoga became a regular part of her exercise routine. Surprisingly, Jacqueline found her yoga practice offered more than just exercise. It had a mind cleansing effect. She experienced more clarity of mind, more patience with family life and more acceptance of self. The more she practiced yoga, the more she wanted to share yoga with others.
After helping her daughter with the birth of her second grandchild, Jacqueline discovered the gift of equanimity during the disorderliness of labor. She had hoped to pursue a career where she could continue to care for and nurture others. It was evident that becoming a birth doula/prenatal yoga instructor was the path she had been looking for.
Jacqueline completed her 200-RYT teacher training in Appleton with Empower Yoga in May 2014. She completed her 85-RPYT for prenatal yoga in Minneapolis, MN at Blooma Yoga in June 2014. She will completed her birth doula training with Emily Shier in Fox Lake, WI in July 2014.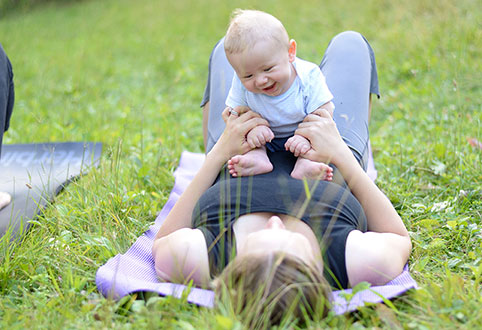 The Women
The women sit together and examine their lives.
The women are set out to determine the cause of problems and to right them.
It is a heavy responsibility on them, yet they are the ones to do it and accept this knowingly.
They meet after each full moon cycle to confer the village is peaceful and prosperous guided by their connection to their bodies and the land.
A young girl remembers seeing the women meet.
She knows their wisdom transcends that of everyday thought.
This has been passed down for many generations.
This communing. The girl is excited for the day she can join the women.
The women do not ignore the signals from their bodies.
The harmonious rhythm which they live shows all the expanse of the moons and the seasons.
This symmetry keeps all the people happy as the women look on with wise smiles.
– Diane Zimmerman